Thousands rise against cost of living crisis across Ireland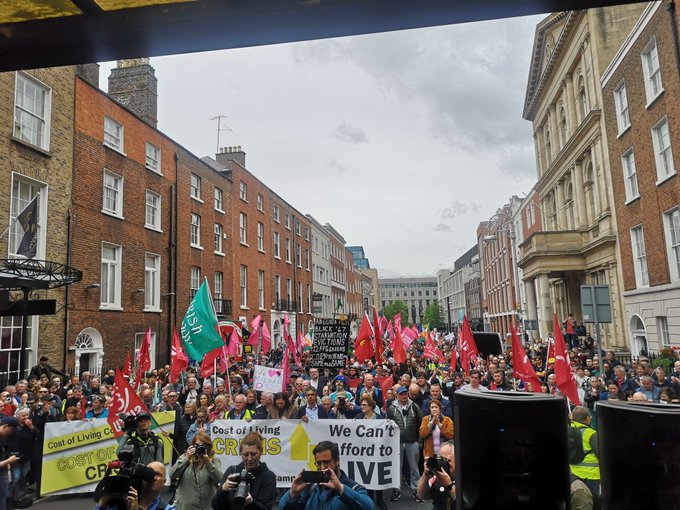 On Saturday the 18th of June thousands of people across Ireland took to the streets to demand better from the Irish government who has abandoned the working class for years. The protests called by the Cost of Living Coalition were held in Dublin, Cork, Limerick, Galway, Sligo and Belfast. These protests sent a clear message of anger amongst the working class and it was only the first salvo in what organisers pledged to be a prolonged campaign on the scale of the water charges campaign.
The Cost Of Living Coalition is made up of a plethora of political parties like Sinn Féin, People Before Profit, The Socialist Party, and Right to Change. The Irish Senior Citizens Parliament, Rural Ireland Organisation and all of Ireland's large Trade unions are also members of the coalition. All of these groups featured at Saturday's protest in Dublin which marched from the Garden of Remembrance to Leinster House.
People's money is simply unable to meet people's needs anymore. Wages have stagnated since 2008. The Irish workers were told this wage stagnation was for stability and to get us out of the financial crisis. Well the crisis ended years ago and the greed of corporations refusing to hand over what is rightfully owed to the workers has brought us into a new crisis. Energy prices are being hiked every month by the private energy providers and gas companies with Bord Gáis raising prices 72% since October 2020. Heating oil that is essential for rural households to heat their homes has risen by 50%, coal going up by over 50% as well. 29% of all irish households are currently in energy poverty and that will only go up in the coming months.
Food prices are rising across the board with a 10% average rise in food prices but many of our staple food items are seeing even bigger rises. This is leaving people across Ireland with the stark reality of choosing between eating and heating this autumn and winter.
Housing costs have been a central issue in Irish politics for years now. Young people remain unable to secure mortgages even when renting has become more expensive than taking out a mortgage in every county in Ireland. Housing is one of the largest expenses for many Irish homes and it has forced many people such as students and minimum wage workers to seek help from food banks to feed themselves. A students union having to set up a food bank for its own students is nothing but an embarrassment in any modern nation. Working families across the country are being exploited by greedy landlords who only seek to make money from the poor by providing one of the most basic needs to people (while contributing nothing to greater society).
The squeeze of extortionate rents, fuel rises and basic foods exploding in price has left people across Ireland having to cut back. Pensioners, minimum wage workers, those on welfare, and students have been left in the most dire situations. Only just barely having enough to get by and to be told by ignorant government ministers to somehow make less money go further is the reality for these vulnerable groups all across ireland and it is nothing but a massive "Fuck you" from Fine Gael, Fianna Fáil and the Greens. People cannot handle this and as the crowds chanted during the march in Dublin "Prices are rising and so are we!". We will not wait until the budget, If the government wants to treat its people like they are deserving of nothing from them they should be ready to feel the anger of a working class pushed to its limits.
An estimated 1,500+ people attended the march in Dublin with hundreds attending other events across the country. The march on Dublin stopped outside the Dáil to hear from a number of speakers such as Richard Boyde Barret, Mary Lou McDonald, Joan Collins, and Fr Peter McVerry. The atmosphere was one of anger at the government's disgraceful failure to help the working people of Ireland. But it was also one of optimism in the size of the crowd that had gathered for what will only be the first of many protests in the future.
The Irish working class sent a clear message to the government. We can mobilise and we will mobilise if they are to treat us with nothing but contempt. The Irish people will not settle for the bare minimum and they will demand nothing less than their fair share of what they give to this country. The working class will rise and the working class will unite for their own liberation. Anyone can see that elections and politicians cannot serve the working class. Only through people power can the working class be liberated. Join the Cost Of Living Coalition to join this movement and to demand change.